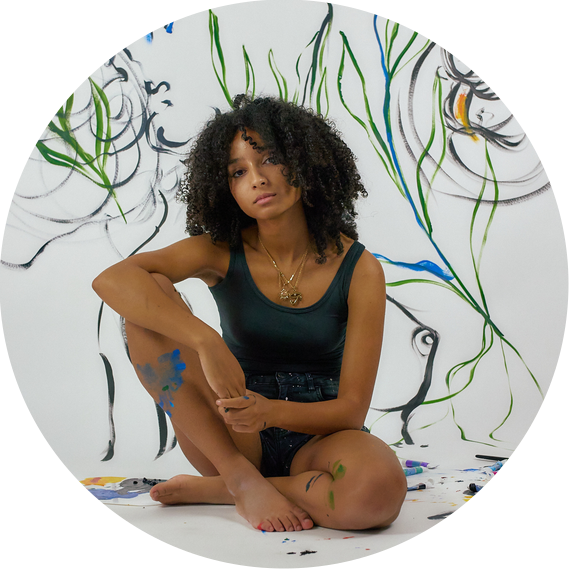 Diana Sinclair is an eighteen-year-old visual artist and curator working in the New York City area. In Nov 2020, she was selected as a 2021 YoungArts National Finalist in Photography, and since then has been exploring experimental video art and multimedia layering. She has had her artwork shown in numerous exhibits all over the world and herself became one of the youngest curators within the NFT space through solely curating The Digital Diaspora exhibit and auction in June. Her story and the exhibit were featured in publications like Teen Vogue, Hypebeast, The Guardian, and more. In July this year she was selected for Fortune's "NFTy 50: The 50 most influential people in NFTs" list. This fall, she was chosen as one of the featured artists in TIME's first NFT collection. Most recently, she created a collection of four artworks, sold as NFTs, for the Whitney Houston's Estate in collaboration with the OneOf platform to raise money for the Whitney E. Houston foundation. The centerpiece of the collection, an unreleased Whitney recording along with a video art piece created by Sinclair, sold for ~1 million in auction. As a young person in this unique time, Diana believes that the next renaissance will grow from the intersection of art and technology, and is passionate about creating work that embraces this evolution.
Honors & Awards
National 2021 YoungArts Finalist in Photography
Gold Medal in Photography in the 2021 Scholastic Art Awards
Grand Prize + Winner in People Category in the 2021 National Rocky Mountain School of Photography High School Photo Competition
Finalist for "Best Short Film by a Young Filmmaker" in Amsterdam's "Children Cinema Awards"
Selected #33 on Fortune's NFTY 50: The 50 most influential people in NFTs